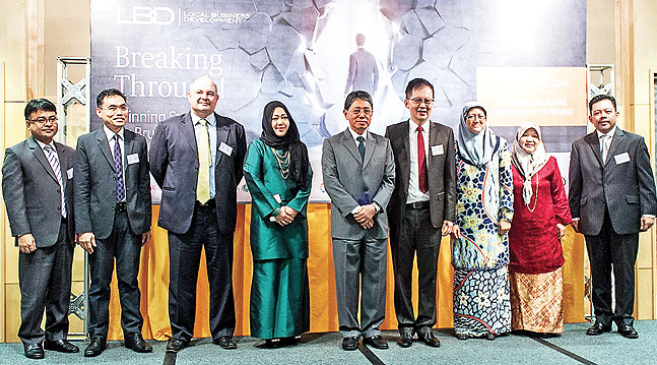 WINNING strategies for Brunei's small and medium enterprises (SMEs) took centre stage as the Asia Inc Forum hosted the 2014 Local Business Development (LBD) Forum yesterday.
Held at the Radisson Hotel, the LBD Forum carried the theme, "Breaking Through! Winning Strategies for Brunei SMEs" and looked at how SMEs in the country can develop a winning plan for expanding local markets and getting ready to create new markets globally.
The guest of honour was the Minister of Industry and Primary Resources, Pehin Orang Kaya Seri Utama Dato Seri Setia Awg Hj Yahya bin Begawan Mudim Dato Paduka Hj Bakar, who gave a keynote speech on why SMEs matter to Brunei.
The forum then entered its first session, which began with a presentation by the Chief Co-Creation Officer and Founder of the Strategic Co-Creation Group in Malaysia, Dr Peter Ting, who spoke on the need to re-orientate strategic focus and look at creating new, uncontested market space rather than competing within the existing market space.
He then sat on a panel alongside Managing Director of Butra HeidelbergCement Sdn Bhd, Marcelino Ugarte and Managing Director of Origin Films Sdn Bhd, Siti Kamaluddin, to take part in a discussion moderated by an Economic Officer at the Department of Economic Planning and Development, Hazwan Kamarulzaman.
The session focussed on building the Brunei brand, looking at how local brands can be strengthened domestically and how they can make the transition into the global market.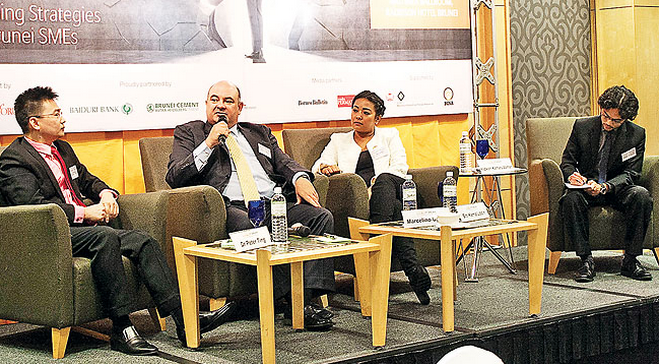 Responding to a question, Dr Ting highlighted that in line with the LBD Forum's theme of "breaking through", winning strategies need to be thought about.
For a strategy to be a winning one, he said, there are at least three parties that the strategy needs to align with; all three of whom must be "winners" through the strategy.
First is the buyer and "how can buyers win if they invest in our products?" he asked. "They must gain something."
Next are the shareholders and investors. "How can shareholders, investors and business owners win?"
Third is the community. "What will be the impact on the people working for you in your organisation? What will the impact be to the environment and to the community?
"All three parties need to win," he asserted.
This was followed by a session entitled "Where is the Money?" which discussed financing options for local SMEs.
Head of Retail Banking & Branch Network for Baiduri Bank Bhd, Pg Azaleen Pg Dato Hj Mustapha, began with a speech in which he gave an overview of the country's financial sector.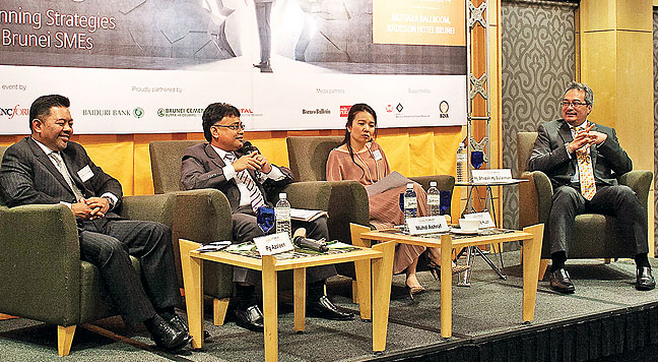 One notable point he shared was that the total lending portfolio in Brunei amounts to $5 billion. "For a market of 400,000, it's not bad. It's still a big portfolio."
"Yes, we (the banks) have money to lend to you. How and why we should lend it to you, that is up to you to convince us."
Pg Azaleen then joined Acting Head of the Entrepreneurial Development Centre (EDC), Awg Muhammad Ashraf bin Abdullah Kadai and Yvonne Kuan as panel members for the session's forum, which was moderated by Hj Shazali bin Hj Sulaiman, a representative of KPMG.
The panelists discussed the financing options for Bruneian SMEs and the pros and cons of bank financing, while also touching on how micro financing can be made accessible to small businesses.
One notable comment during the session came from the Asia Inc Forum Chairman, Dato Paduka Timothy Ong, who shared a story of one of his business ventures that ended up failing.
He underlined the importance of this failure as a lesson, highlighting that it helped him learn and create the successful Asia Inc Forum.
"When you encounter failure, do not consider yourself a failure," he said. "I failed, but I learned."
After the forum was concluded, the proceedings continued with an LBD workshop on the Value Innovation Programme (VIP).
The one-and-a-half day workshop, which began yesterday afternoon and will continue today, aims to lay the foundation of achieving sustainable business growth by first shaping the mindset of entrepreneurs and then sharpening their focus to create a growth blueprint for their respective businesses.
The workshop's facilitators are the Co-Founders of the Strategic Co-Creation Group, Malaysia, Dr Peter Ting and Dr Abby Ting.
The event was organised by Asia Inc Forum partnered by Baiduri Bank, ButraHeidelberg Cement, Total E&P Borneo B.V., with the support of the Ministry of Industry and Primary Resources and BINA, with Borneo Bulletin and Media Permata as media partners.