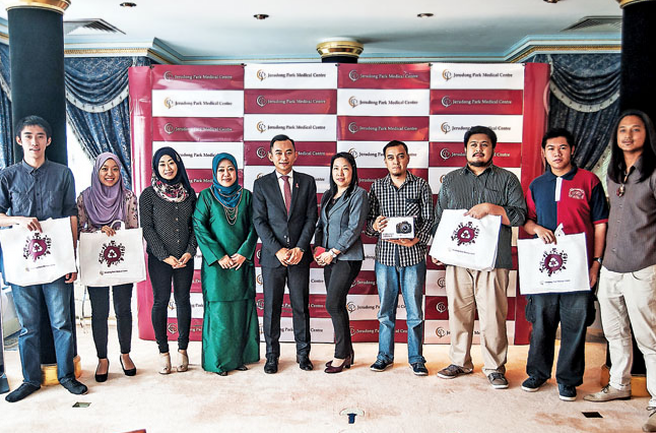 THE Jerudong Park Medical Centre (JPMC) yesterday held a cheque presentation ceremony to the Brunei Darussalam Aids Council (BDAC) as well as prize presentation to the winners of the World Aids Day photo contest, which was organised recently by JPMC in collaboration with Brunei Press Sdn Bhd based on the theme 'Getting to Zero'.
The ceremony was held in conjunction with World Aids Day 2014 and took place at the Royal Brunei Golf & Country Club in Jerudong.
Nor Azlan bin Ibrahim, who won the photo contest, walked away with the grand prize of a Canon EOS 700D Kit (18-55mm), a cash prize of $500, a one-year JPMC gym membership, a Canon cap and a power bank.
The runner-up of the photo contest was Muhammad Syukri bin Haji Zulkipli who received a cash prize of $300, a six months JPMC gym membership, a Canon cap and a power bank, while the third place winner, Abdul Halim bin Mahat, brought home $200, a three-month gym membership, Canon cap and a power bank.
The fourth and fifth place winners, Ak Muhd Hizami bin Pg Haji Yasmin and Muhammad Fazizul Haqimie bin Jefren respectively, both received $100, a one-month JPMC gym membership, Canon cap and a power bank.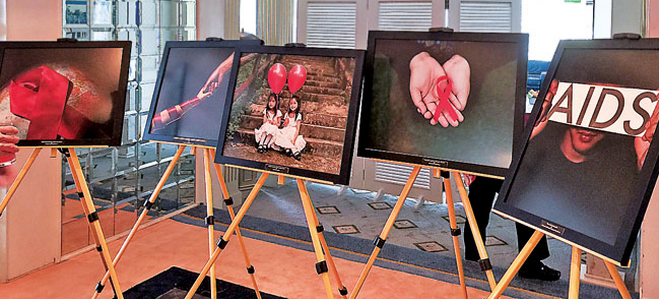 The prize presentation was facilitated by Ak Danny bin Pg Tajuddin, Marketing Officer of JPMC for the first and the second place winners, while the third, fourth and fifth place winners received their prizes from Hazizah binti Osman, Deputy General Manager of Brunei Press Sdn Bhd.
The ceremony then continued with the handing over of a $1,565 cheque accumulated from the sales of JPMC red ribbons, presented by Ak Danny to Nazirah binti Abdul Kamil, Executive Committee member of BDAC.
"The red ribbon sales is an annual corporate social responsibility project by JPMC to support World Aids Day by spreading awareness on the pandemic and raising funds for charity for the Brunei Darussalam Aids Council," said Ak Danny.
"This year, we have sold 500 red ribbons and have collected $1,565. The response this year has been very encouraging in terms of increase in red ribbon sales. On another note, we have also received an overwhelming response for the photo contest with participants submitting over 80 photos," he added.
The World Aids Day photo contest is supported by Manning Jaya Trading (B) Sdn Bhd, Interhouse Company, Mc Quipp Technisell Marketing Sdn Bhd, Medicorp Sdn Bhd, JPMC Fitness Centre and MixMediaWorx.
JPMC has a strong focus on sustainability towards health, environment and corporate social responsibilities and has been featured in countless community-driven activities and programmes from cleaning campaigns to recycling projects and is constantly looking forward towards "what's next".
Brunei Darussalam recorded its first local case of HIV in August 1986 and a total of 193 cases cases have been recorded as of 2013.
Out of these 93 cases, 32 new cases were reported in 2011 to 2013. The year 2013 represented the highest annual increase with 12 new cases and there were a total of nine new local cases of HIV reported in 2013. By the end of 2013, there are 63 persons known to be living with HIV in Brunei with four Aids related deaths recorded in 2013.