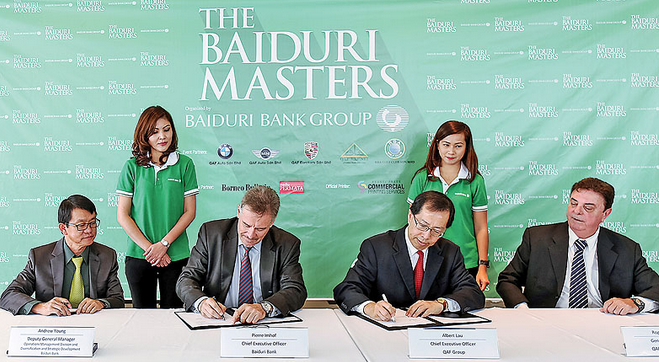 A HOST of luxury cars – Porsche Panamera BMW 218 Active Tourer and Mini One – will be among the many exciting prizes to be won at Baiduri Masters Charity Golf Tournament on May 1 –3 and May 8-10 at the RBA Golf Club (RBAGC).
Participants also stand a chance to win two cash prizes of $20,000.
A Memorandum of Understanding (MoU) was signed yesterday between Baiduri Bank Group and QAF Group – the strategic partner for the Baiduri Masters Golf Charity Tournament.
The MoU was signed by Baiduri Bank CEO Pierre Imhof and QAF Group CEO Albert Lau.
The signing was witnessed by Roger Fletcher, General Manager of QAF Motor Group, and Andrew Young, Deputy General Manager, Operations Management Division and Diversification & Strategic Development of Baiduri Bank Berhad.
"We believed in supporting programmes that offers education opportunities and assistance to children with special needs.
"This support is crucial in creating a brighter future for them," said Imhof.
Proceeds from the tournament will be channelled to registered charitable and welfare organisations.
Baiduri Masters' four-person team category is open to amateur golfers with a valid Handicapping System of Club Verified handicap (whichever is lower) of 18 and below for men, and 24 and below for ladies.
The tournament committee reserves the right to assign handicaps as they deem fit, within reason and as allowed within the rules of USGA Handicapping System.
Total of the best scores are based on System 36 (strokeplay) for each of the team.
The tournament media partners are Borneo Bulletin and Media Permata.
RBAGC's General Manager Asmadi bin Alimustapha and Finance Controller Brenda Chang Ai Nie, were also at the ceremony. Members of the public are welcome to participate.
Registration fees are $120 for adults and $60 for juniors, which is inclusive of green fee, buggy, buffet breakfast and lunch. All players will also be invited to the prize presentation dinner afterwards.
Participating golfers may play more than once, with a 10 per cent discount for their second registration.
The registration deadline for the first weekend's tournament is April 29, while the second is May 6.
Late registration will only be entertained if slots are available.
The public can visit www.baiduri.com for further information.